Moscow, Russia — 08 December 2020.
Tinkoff announces the launch of Tinkoff Call Defender, a platform designed to prevent fraud and social engineering in the telecom sector developed as part of the comprehensive Tinkoff Security system to protect the ecosystem customers. The platform was developed in partnership with major mobile operators, including Megafon, MTS, Tele2 and Tinkoff Mobile.
Tinkoff became the first Russian bank to pilot an anti-fraud platform in telecom and prepare it for a full-scale rollout. Tinkoff Call Defender uses, among other things, one of the Russian market's newest solutions developed by Megafon, MTS and Tele2 to protect ecosystem customers from the most common fraud method — social engineering, including caller ID spoofing.
The anti-fraud platform, piloted since February 2020, combines a number of mobile operators' services with Tinkoff's own anti-fraud technologies. At the initial stage, Tinkoff Call Defender can identify the type of fraudulent calls, including spoofing calls, in eight out of ten cases. The new service will be automatically available to the Tinkoff ecosystem customers connected to the participating mobile operators.
How it works
The anti-fraud platform provides for real-time data exchange between the bank and mobile operators. Specialised software automatically synchronises data across the participants' systems during the call and detects suspicious callers, thus identifying potentially fraudulent incoming calls.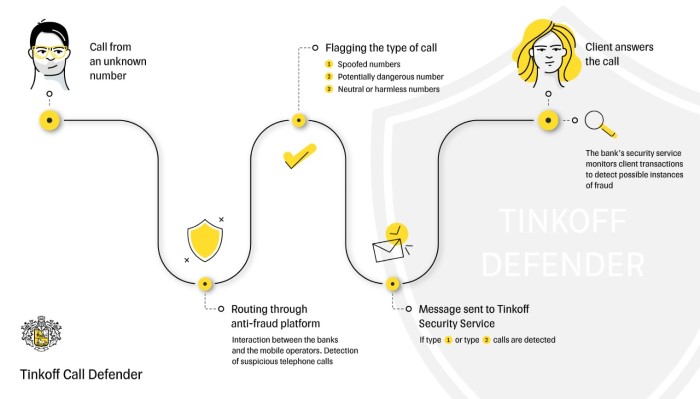 One of the most common fraudulent schemes is the spoofing of bank phone numbers. For such calls, the platform can determine whether the call was actually initiated by the bank. If authenticity is not confirmed, the platform marks the number as suspicious and notifies the bank. Such notification can supplement the bank's own anti-fraud technologies and signal the need to protect the customer's funds from unauthorised withdrawal. For instance, Tinkoff can suspend uncommon transactions on a bank card following a suspicious call to the customer until the circumstances are clarified.
Alexey Baklanov, Head of Anti-Fraud at Tinkoff:
«We started to explore and pilot the technology together with our partners, Russia's largest operators, back in February 2020 and were the first on the market. We are building a comprehensive anti-fraud system to protect our customers and have been looking for an effective "cure" for social engineering for a long time.
We are grateful to our partners — Megafon, Tele2, MTS — for joining efforts with us to create a truly workable anti-fraud solution. The pilot showed that the telecom solution works especially well with Tinkoff's proprietary anti-fraud technology. For example, the database of fraudulent numbers is compiled internally, as well as other factors that we cannot disclose for obvious reasons. We check if someone from the bank called the customer, and alert the anti-fraud system if there was no such call. Such signs contribute to the logic behind our anti-fraud system, together with machine learning and artificial intelligence.
Tinkoff Call Defender propels customer security in the Tinkoff ecosystem to the next level.»